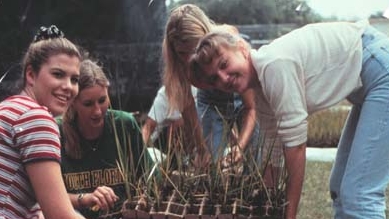 When my mom wants to talk to me, this is what I imagine ... I have a shield, I'm wearing armor, and I have a stick that I am poking at her while I say "Back! Back! Stay back! Stay away!"
from Queen Bees and Wannabes: Helping Your Daughter Survive Cliques, Gossip, Boyfriends, and Other Realities of Adolescence, by Rosalind Wiseman (Crown Publishers, New York, 2002). This book was originally intended for parents, claiming to describe "the secret world of girls' friendships". The author did an excellent job conducting interviews and analyzing the meaning, and the book is worth reading for us, too.

Here's a good collection of web sites for teen girls. It's divided by country (U.S., Canada, and England are included) and the list says what each site is about.
United States
Canada
England
---
Questions about this web site may be sent to web-team@zup4teens.com
Photo credit: National Oceanic and Atmospheric Administration/Department of Commerce